Club fell into administration in July after controversial change of ownership
Supporters produced a compelling Crowdfunder campaign to rally community
Over £830,000 has been raised in total to move towards fan ownership
Host of former and current players, plus MPs backed campaign
It's inconceivable that Wigan Athletic could fold.
But that's the plight facing the FA Cup winners of 2013, who fell into administration back in July only weeks after a controversial change of ownership at the DW Stadium.
Local MP Lisa Nandy, the shadow foreign secretary and passionate supporter, said at the time that the club was a victim of a 'major global scandal', calling for an immediate inquiry.
Meanwhile the supporters quickly mobilised to save their club after the new owners failed to support the club financially, and Crowdfunder reached out to supply the platform and expertise to make it happen.
Their immediate goal was to complete the season to avoid a 12-point penalty, going on on to successfully raise £200,000 to cover the club's operational costs. They kept every penny with the platform waiving all its fees for football clubs during the pandemic.
But despite losing just one of their final 15 matches of the campaign, they were relegated after an unsuccessful appeal against the points deduction for entering administration last month.
It was a particularly cruel outcome, given the effort of both the fans and the players, but that was the least of their worries with the battle to save the 88-year old institution already underway. A potential buyer had not come forward and time was running out.
Step forward the fans – for a second time in a month.
The Wigan Athletic Supporters Club, spearheaded by the irrepressible Caroline Molyneux (pictured above, right), worked tirelessly in a matter of weeks to pull together a working group of key stakeholders across the town.
They decided to do something about the situation and worked with Crowdfunder to produce a second campaign. This time around their aim was clear: to secure the future of Wigan Athletic for generations to come.
The club's chief executive Jonathan Jackson, its community trust and the local council – already funding partners with Crowdfunder – joined the taskforce alongside our dedicated football team.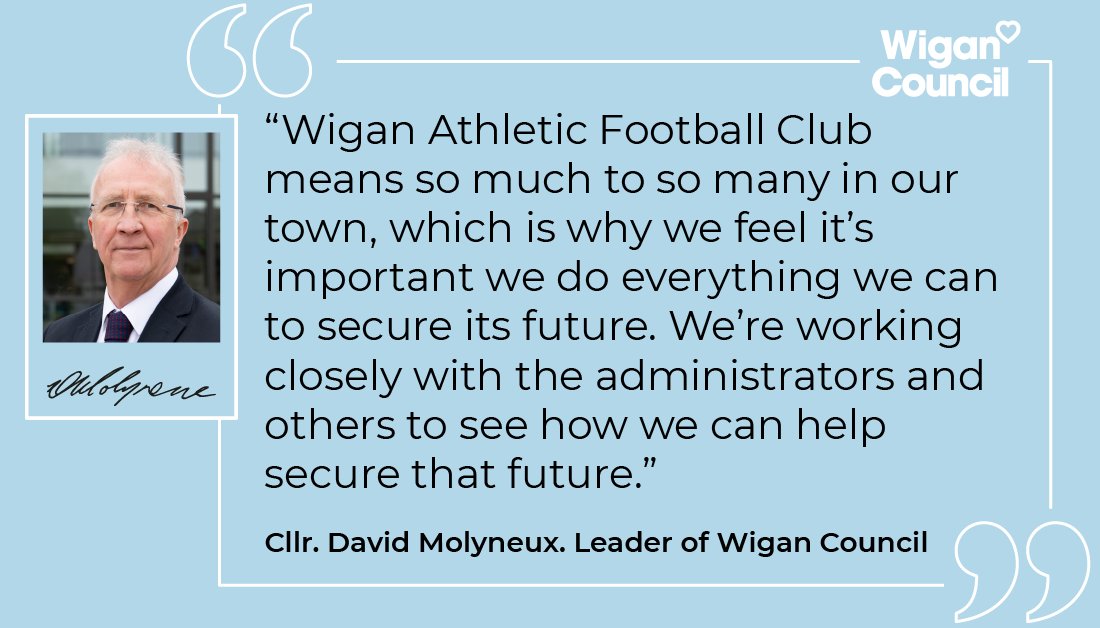 Nandy's unwavering support brought a high profile to the campaign, which was also backed by fellow Labour MP and the Mayor of Greater Manchester, Andy Burnham. He says the situation 'stinks'.
A string of current and former players followed suit, pledging money and activating their large social media followings including Reece James, the Chelsea defender who spent last season on loan at the DW Stadium.
His contribution resulted in it being widely shared by his teammates in west London, reaching tens of millions of football fans around the world.
Come on let's help @laticsofficial out! To every player out there never forget who played a part in your career to get to where you are today 🙌 To everyone who has a fond memory playing against Wigan, they need our help today. I've donated to help this wonderful club. pic.twitter.com/XJQXYER3Nc

— Reece James (@reecejames_24) August 29, 2020
Pledges followed from all four corners of the globe – 45 countries in total – driving real momentum into the fan-led movement.
In total it went on to raise a further £615,000 across five frenetic days, thanks to more than 5,000 people pledging an average of £120 each. They may well have contributed to one of the club's most decisive performances in its history, closing in on a million in total through the platform.
But it wasn't achieved by rattling the begging bucket. It was an engaging campaign launched with an emotional video, capturing the real spirit of Wigan Athletic.
They offered a variety of rewards to put their supporters at the heart of the club's future operation. It gives them a powerful voice in what happens next. And there was also an opportunity for local businesses to show their support through a number of commercial packages.
You created the platform we needed. Wigan fans have long memories and we won't forget what you've done for us.

— harvey (@harveyo01) August 30, 2020
By encouraging people to create 'multiplier' projects they enabled supporters to fundraise in their own right, adding money directly for the cause.
For example Jamie Jones, the club's title winning goalkeeper, responded by 'raffling' his coveted League One winners medal, making national news by adding more than £6,000 to the total. However the keepsake was instantly returned by the winner, encapsulating the burgeoning relationship between the fans and players as a result of the campaign. The moment was widely shared on social media.
👏🙌 What a gesture!

Wigan fan Mark Holdsworth, who had won goalkeeper Jamie Jones' League One winners medal in a fundraising raffle, has handed it back to him as a token of appreciation for his efforts in trying to save the club.

More: https://t.co/zLbbnGhkTT pic.twitter.com/Qc7Mdf9gJV

— Sky Sports (@SkySports) September 1, 2020
There was also a signed shirt from that famous occasion at Wembley seven years ago, which more than doubled its original target as well as striker Grant Holt's Europa League shirt from the resulting campaign.
Fundraisers too. Five-year-old Ollie Cooper melted everyone's hearts with a bike ride from his home in nearby Standish to the DW Stadium, smashing his original £50 target by a whopping 2,160%.
There were so many great stories, but that's the brilliant by-product of crowdfunding. The phrase 'fan engagement' is often misunderstood or misinterpreted in football circles but successful Crowdfunders deliver meaningful relationships with clubs. They re-energise the communities around them.
We know that because we have worked directly with a third of EFL clubs since the pandemic disrupted the football calendar, who have turned to our platform for a variety of innovative projects to generate revenue and excitement in their communities. More than 60,000 fans in total have played their part in something special, raising more than £3 million.
Of course given the huge finances in the game, this isn't a solution in its own right. That comes with long lasting reform but crowdfunding shines a spotlight on the issues facing football fans – and their clubs – right now. Now the people of Wigan have a big say in what comes next, moving towards the security of community ownership and preventing a reoccurrence of this debacle. What has happened on Crowdfunder over the course of a week has changed the club forever.
Sadly though, this may not be the last time a club faces oblivion.
"We could be trendsetters in terms of whats going on in football"

⚽️ Caroline from @WiganAthSC has setup a scheme to raise £750k for Wigan

🧑‍⚖️They face administration and the fans are trying to save their club

Listen on @BBCSounds📲📻: https://t.co/5Du5Yilmm1#bbcfootball pic.twitter.com/sAz21rFFjT

— BBC 5 Live Sport (@5liveSport) August 31, 2020
Caroline told BBC 5 Live: "I think we could be trendsetters in terms of what's going on in football."
"This is going to happen more often now because so many clubs are on a knife edge in terms of their financial arrangements, particularly below the Championship.
"It's happened before at the likes of Portsmouth and Exeter City, who are run very successfully with fan involvement on the board.
"Football is more than a business. It's about the fans who have the clubs at their heart. That's why it's so important for supporters to have a voice in Wigan Athletic."
Crowdfunder's founding principle is that we're stronger, together. Our vision is that communities can collaborate to make brilliant things happen. Things that matter. And Wigan Athletic matters.
There's still a lot of work to be done, but the fans have done their bit. So here's to the next 88 years of twists and turns, this time on the pitch.